സിൽവർ ജൂബിലിയുടെ നിറവിൽ ഭാരതീയ കലാലയം സ്വിറ്റ്സർലൻഡ് "തണൽ" എന്ന് ചാരിറ്റി പദ്ധതിയുടെ ഉത്ഘാടനം സൂറിച്ചിൽ നടക്കുകയുണ്ടായി. ഭാരതീയ കലാലയത്തിന്റെ ആദ്യ ചെയർമാൻ ശ്രീ ജോജി മൂഞ്ഞേലി & ഡാൻസ് കോഓർഡിനേറ്റർ ആയ ശ്രീമതി മിനി മൂഞ്ഞേലി ഒപ്പം മുൻ ചെയർമാൻ ശ്രീ സാബു പുല്ലേലിയിൽ നിന്നും ആദ്യ സംഭാവന കലാലയം ട്രെഷറർ ശ്രീമതി ജോസ്‌ലിൻ മരിയ വിതയത്തിന് നൽകികൊണ്ട് ഉത്ഘാടനം ചെയ്യുകയുണ്ടായി.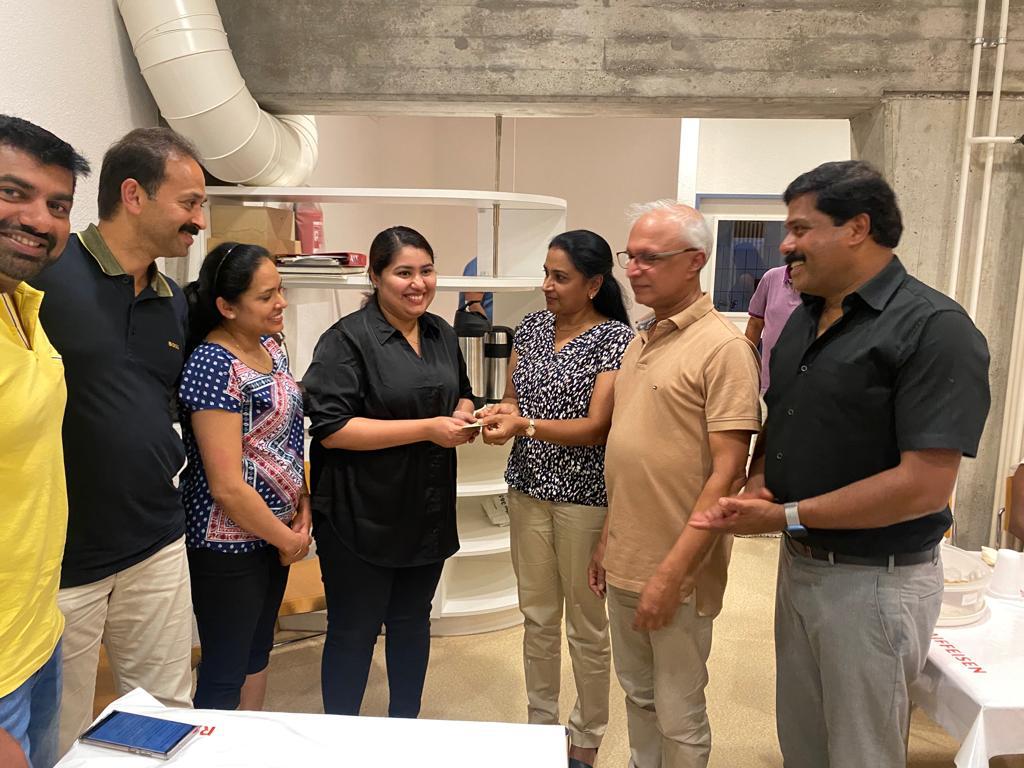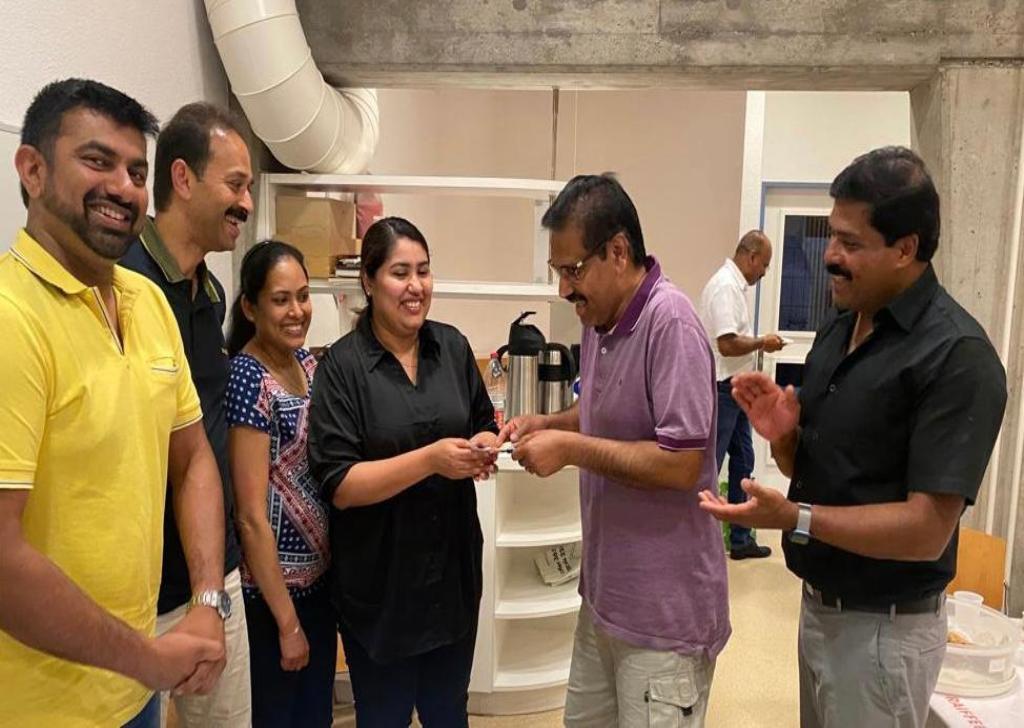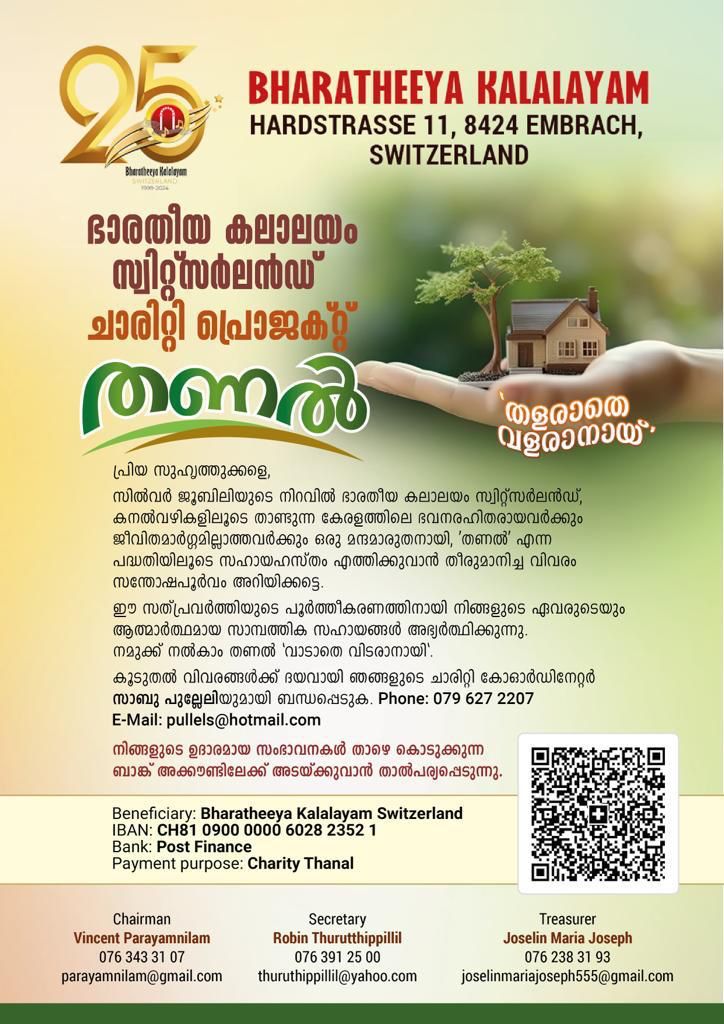 Aug / Sep -2018 & Nov 2019 Spent 3615 CHF
After the floods in Aug 2018, Bharatheeya Kalalayam supported relief activities by providing food and relief supplies in the worst affected areas in Wayanad, in the Kerala state in India.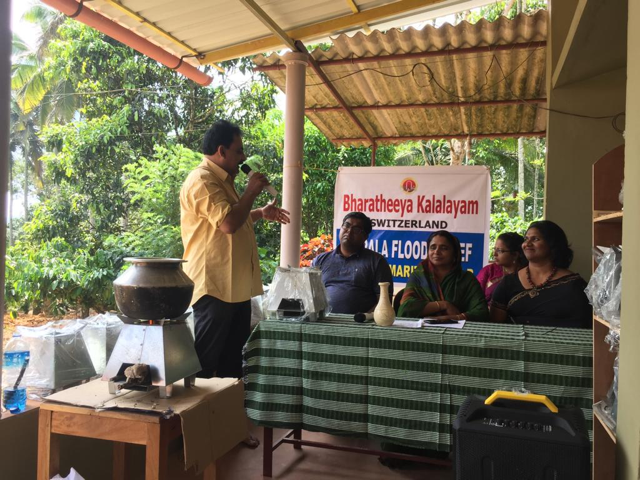 2018 and 2019 - Ojaskhara bio mass stoves
In 2018 and 2019 we provided 100 and 105 ojaskhara bio mass stoves to needy families who were affected by the floods.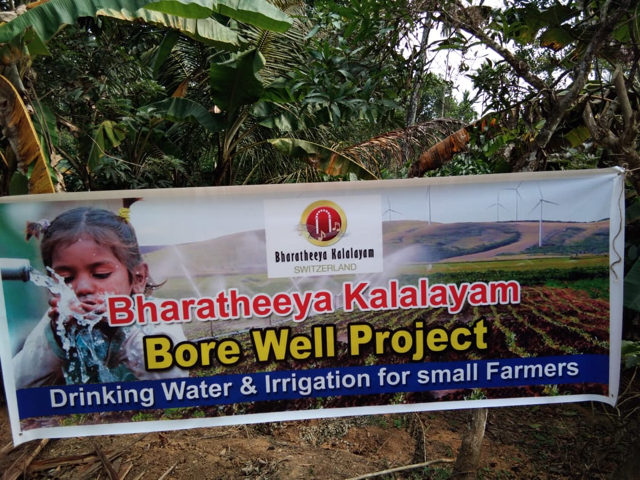 2018 /2019 -Save Farmers Project – 2500 CHF
Bharatheeya Kalalayam launched a project in 2018 to save farmers in Wayanad kerala. The goal was to support irrigation of land and to provide drinking water. A borewell with motor was installed in Feb 2019 and now providing water to more than 20 families – Kaniyambetta village, in Wayanad district in Kerala state in India.
REPORT OF CHARITY ACTIVITIES IN 2021
1,COVID DEATH RELIEF IN KERALA IN JULY 2021
In 2021 the Kovid-19 pandemic spread out around the world and caused many deaths in the state of Kerala, our birthplace in India.
In July 2021 the Executive Committee of Bharatheeya Kalalayam took a decision to give financial support to families in Kerala who have lost their breadwinners due to Kovid-19 pandemic and are suffering financial hardships. From many generous and kind-hearted members of our organisation we collected a sum of Sfrs. 1,550 towards this noble cause.
For finding families eligible for this financial aid, we requested the assistance of Fr. Davis Chiramel, a priest and well-known social worker in Kerala.
We participated in the Covid Death Relief charity project of Fr. Davis Chiramel. The co-orindators of this project, Dr. Rose and her husband Mr. Jose, sent us the contact details of the 3 following eligible families and we gave them our humble financial support.